Hello lovelies! Since I didn't have any time to do a photo shoot this week, and on top of that the weather was awful, I don't have an outfit of the day for you today. But I'm still making a post (as you can probably see, since you're reading it). So today I'll be talking about...*drum roll please*...SHOES. I might have given you a hint or two, or maybe ten, that love shoes.
Let's pretend I live in an ideal world and I don't have to think of my expenses, because I can ear enough money to cover everything I need and more. In that world, I would probably need a room just to store my shoes, because I would have so many, I could wear different ones every day of the year. I'm not even joking now, but I spend waaaaay too much time checking out online shops for new pairs. And even if I know they won't fit in my budget for some time, I still have a loooong list of shoes I would like to own. Some of them are higher on the list than other, but it changes frequently, because some are so expensive, I can't even think about buying them at the moment. As you probably guess, I'll be walking you through some shoes from that list of mine, and I'm gonna limit myself to 5 pairs.
I think my outfits are quite different from anything most people would call normal, and with special outfits you need to have special shoes. And vice versa. If you're going for crazy, go all the way. Otherwise you'll just look ridiculous. My taste in shoes is just as special as my taste in clothes, so you probably won't like most shoes on this list. They are the ones guys normally think of as ugly or stupid and in a way, they are sort of ugly. But to me, they are gorgeous. And I can't even imagine myself in a pair of Nike high tops (which I do own by the way) anymore. I've changed my outlook on fashion in the past year or two and unusual has become so ordinary to me, that I would even twitch if I saw someone in 15 cm platforms walking around town. So enough with the talking, let's get on with the shoes.
JEFFREY CAMPBELL ASYLUM SHOE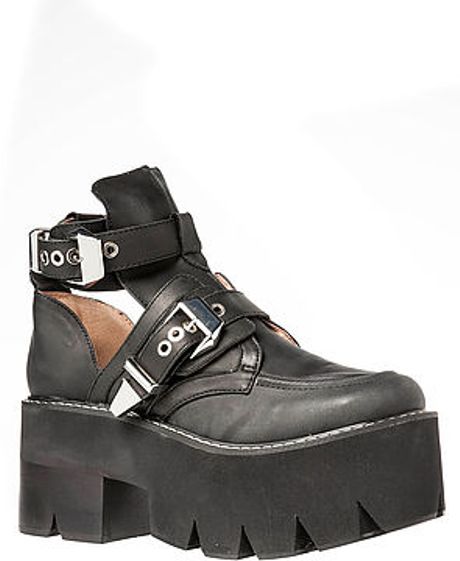 Let's start the list with a Jeffrey Campbell shoe, since they have some of the most bad ass shoes I've seen. I've had my eye on the Coltranes for some time now, and I think this is an upgrade in the right direction. You could say they stepped up their game, and by that I mean the additional 6 cm in platform hight. They are chunky, edgy and c'moon it's called the asylum shoe. How awesome is that. And the separated platform is just icing on the cake.
JEFFREY CAMPBELL MULDER
A classic boot. Well maybe not so classic, but somewhere along those lines. This is a more elegant shoe and it's a take on Stella McCartneys Hadley boots, just about 10 times cheaper. It's going around the same lines as the previous one, chunky heel and split platform. In love.
T.U.K. POINTED TOE CREEPERS
I attached two photos, because I adore both of them and I can't really decide which one is my favourite. The black and white one is more of an elegant men's shoe and the second one is more edgy and fun. I love the look of the creeper platform and the manly vibe both of these shoes have. I think they would look amazing with a fitted pair of checked trousers or even a suit.
DR. MARTENS 1461
I've been lusting after these gorgeous shoes for quite some time now. These are the only shoes on this list that aren't black, and that's because I think this metallic silver colour looks ridiculously good and they are so polished and elegant and overall just a great and functional everyday shoe as well as made for special occasions. And again, it's basically a men's shoe.
UNIF NEO BOOTS
These ones look like space shoes to me, is that weird? They are incredibly tall and I love that the platform is almost the same hight as the heel, because that means my feet wouldn't be at a steep angle and they wouldn't hurt. Even though I can imagine they must be really heavy. But than again, fashion isn't meant to be functional, now is it? If it looks great, it's worth it!
And I forgot to add any sandals to the list, so I'm going to extend it a little bit.
TOPSHOP NELSON SANDALS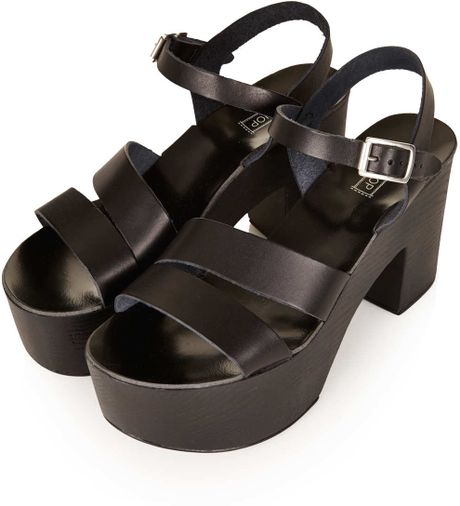 These have sold out a few months ago and ever since I've been on the search for a similar pair. As you can see, I haven't found them yet. But I hope some version of them comes back in the warmer seasons, because I really need a summer shoe (this summer I walked around in creepers and combat boots) and these look so simple, but they have something special about them that just keeps me interested.
Y.R.U. ORION
Okay, so this is really the last pair. They are similar to the Y.R.U. shoes that I already own, except these are sandals. It's perfect. Huge platform, but otherwise simple and black. Everything I love about a shoe.
Okay so this will be everything for today, I hope you enjoyed my post and you'll hear from me soon.
Love you guys! xx